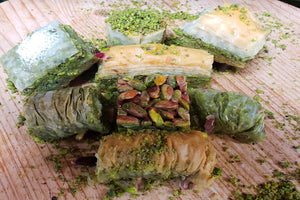 An Amazing and rich collection mix of authentic Turkish baklava pastry consist of sheets or shredded phyllo dough, layered with only Imported Turkish pistachio to deliver home the real taste of the East right here in the West, Purified butter, and, baked and soaked in our special sugar syrup.
Approx. half tray 36 pcs., full tray 79 pcs.
All Natural and No preservatives.
Disclosure: Count might very in each tray, depending on the cut size.